Enterprise Business Telephone Systems


Improve Business Continuity
---
BroadconX UC systems provide enterprise-class features and functionality to help you manage and maintain your business continuity plan. From call center applications, managing multiple locations to CRM integration we can help improve the scalability, reliability, and security of your communications system. Our unified communication solutions are simple to manage, freeing up IT resources and increasing employee productivity.
---

Call Center Applications
Improve your customer's experience with a virtual call center application from BroadconX. Our cloud-based business telephone systems are highly scalable. Add and remove agents as needed maximizing efficiency. Advanced call queuing, call recording and supervisor monitoring enhance your ability to successfully manage call center activity. Real-time and historical reporting, integration with CRM applications like Salesforce and Microsoft improve agent productivity.
---

Centralized Management
Eliminate the need for IT resources at all locations, improve help desk productivity by allowing employees to self-manage their communications. Our simple, layered and intuitive management interface allows you to manage users and control your system from any location – in real-time status. Request a demo of our administrative portal and learn why simple is better.

---
Security
No need to worry about the latest security threat. Your calls, messages, and data are encrypted and stored on secure servers located within our cloud-based infrastructure. BroadconX UC systems are all HIPPA and PCI compliant. 
---

Reliability
Do you have a disaster recovery plan? We do! BroadconX cloud-based systems are always on providing you with the most reliable business telephone system available. Unexpected outages can cost a business thousands of dollars per hour. BroadconX UC systems are geo-redundant and not dependent on the resources you have at your business location. In an emergency, route call traffic and manage employee communications from anywhere, any time of the day. Contact us to learn how cloud-based technology protects your business from unexpected outages.

---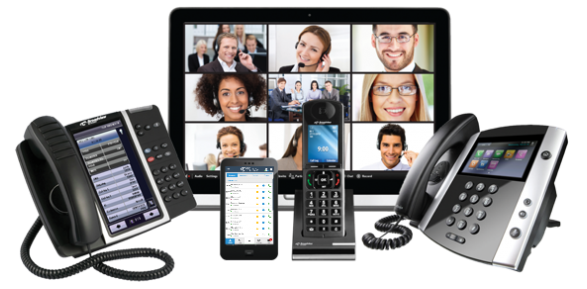 Anytime, Anywhere Any Device
Access the same powerful features you have on your business telephone phone from any device. Improve your communications, productivity and employee experience by accessing the most advanced features in the industry. Softphone, mobile clients, HD Video, and advanced call routing capabilities are all standard features.
Small-Medium Business Solutions ¦ Education & Government Solutions
All BroadconX Business Telephone Systems Include
Unlimited Calling: Lower your communications bill by eliminating long distance charges.
No Hardware: Our cloud-based systems require no on-site hardware (except the telephone) which minimizes your upfront costs. In addition, there are no future expenses associated with software upgrades, maintenance agreements or "trip charges". Telephones can be rented for a low monthly fee, which includes replace/repair at no cost and the ability to upgrade to newer models at any time.
One Bill: Telephone lines and UC phone system on a single bill.
Support: 24/7 Technical Support and Customer Service.
Implementation: All new systems include project management from design to installation. And we provide customized administration and end-user training.

30 Day Money Back Guarantee